Chicken Salad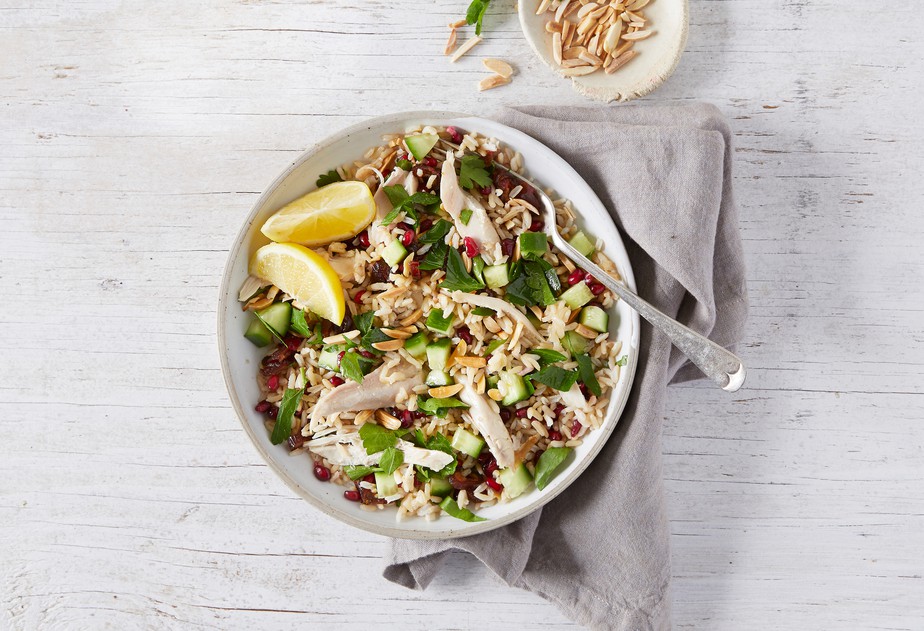 Serves 2 Prep 5 MIN Cook 30 min
GF, EF, DF
Ingredients
1⁄4 cup brown rice, rinsed
25g slivered almonds
200g chicken breast, pre-cooked, shredded
1 Lebanese cucumber, finely diced
2 medjool dates, pitted & chopped
2 tbs lemon juice
1⁄4 bunch continental parsley, chopped
salt & pepper, to taste
2 tbs (40g) pomegranate seeds (optional)
Method
Place rice, ½ cup water and ¼ tsp salt in a saucepan and simmer, covered for 30 minutes. Remove from heat and stand for 5 minutes. Spread on a plate or tray to cool.
At the same time, toast almonds in a dry frypan over medium heat for a few minutes until golden and set aside.
Place rice, chicken, cucumber, dates, lemon juice and parsley in a bowl, season to taste and toss well. 
Transfer to serving bowls and scatter over almonds and pomegranate to serve.